Behavioral Health Solutions
Behavioral Health Solutions (BHS) is a search tool to assist substance abuse clinicians in better caring for their clients by providing easy access to evidence based treatment approaches. BHS was funded by a Small Business Innovation Research (SBIR) grant in which Inflexxion partnered with Hazelden. A possible commercial application of the tool is being investigated.
The challenge
Design a system that delivers evidence based treatment information in an easily accessible format and integrate it into the clinician's daily workflow to address patient care needs.
Contextual interviews
I planned the interview script and conducted ten in-person interviews with clinicians and clinical administrators. The goals were:
to better understand their workflow and client treatment process
understand the devices and programs they use in their work
understand attitudes around learning and implementing new evidence based treatment (EBT) approaches
gather feedback on the BHS product concept
The content team of consultants and clinical researchers was working on a list of client problem areas to include in the program. In addition to the goals above, I showed this list to interview participants to get feedback on wording and structure.
Team presentation
I presented findings and recommendations to consultants, partners and internal team stakeholders. Since assumptions we had made before testing differed from what I heard from clinicians, this presentation and discussion served to get everyone on the same page with product direction, and scope of features and functionality.
Requirements and use cases
Gathering and documenting requirements was an iterative process. I worked closely with the development team during two week sprints to document technical requirements while documenting user requirements, site architecture and use cases. A proof of concept of the search interface, content tagging and search algorithm was later used during user testing.
Content gathering and tagging
Inflexxion partnered with Hazelden Publishing for 75% of BHS content and with IRETA – a non-profit that helps to educate and train addiction professionals – to find publicly available content for the other 25%.
To create an intuitive search interface and ensure content was easily found given a variety of terms that the clinicians might enter, I worked with the clinical researcher and consultant to create a tagging system. As a result, BHS displays appropriate results from a range of clinical search terms.
BHS launched for field trial with about 300 pieces of content (videos, PDFs, how-to information and topical articles).
Iterative user testing
Using an Axure prototype and the proof of concept from developers, I planned and conducted iterative user testing on the search interface. I tested with three new clinicians every few weeks over a two month period. I updated the search interface design between each round of testing.
This design process with a heightened cross-functional team effort was a first for Inflexxion. I was asked to give a presentation to the clinical research team and later to the company. The presentation I put together included the design process and how it changed the course of the product strategy.
The initial product kickoff
Initial user findings from contextual interviews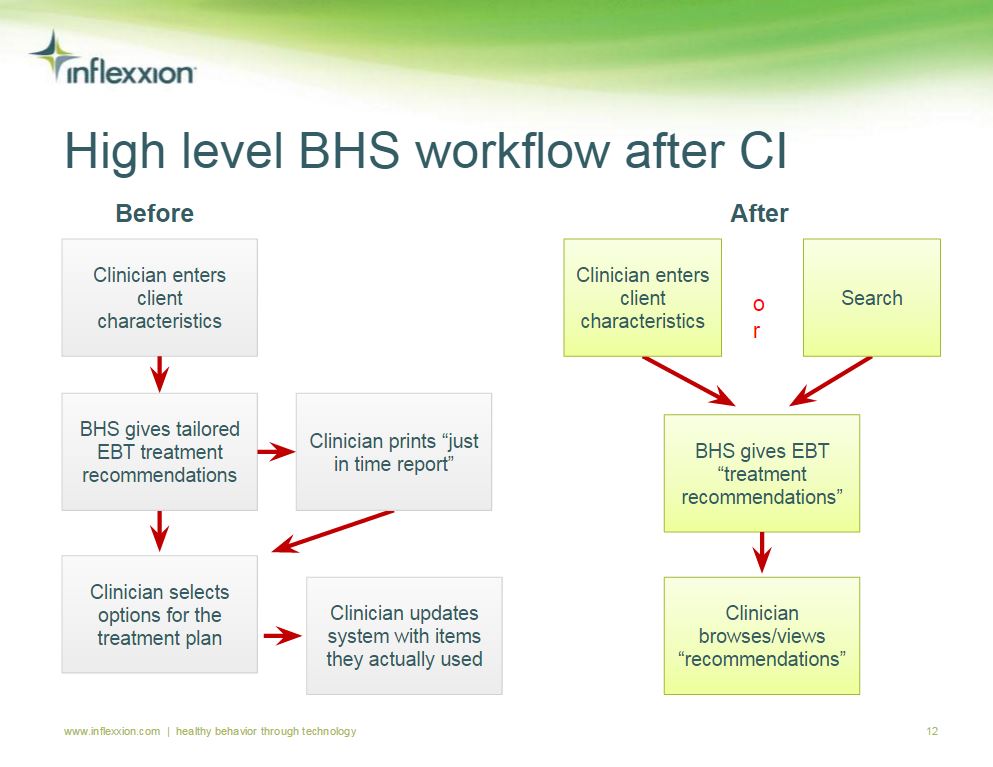 High level user flow before & after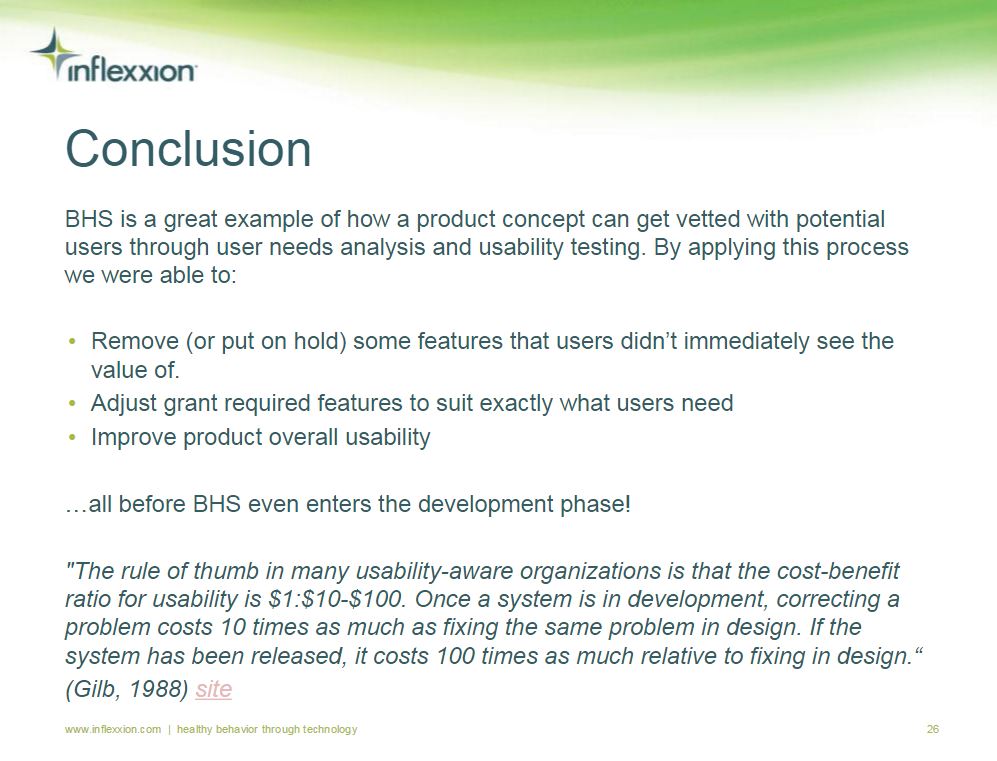 Final product
The product completed field trial in August of 2015. Inflexxion is discussing opportunities for commercial application.